On the morning of Friday, July 19, we headed out for another 2-night camping trip, this time to Pocahontas State Park.
This was our most distant trip to date with our new-to-us trailer, and one that involved mainly interstate travel. Even though my gas mileage tanks when towing, the Kia handled the drive well, with no sign of overheating (even with the A/C on full force).
The campground was easy to find, and we arrived right around noon. (By keeping my target speed to about 63 mph, it took us just under 2 hours.)
We'd reserved a "non-specific" site, and when we checked in we asked the woman at the visitor's center to suggest sites that were mostly shaded. She gave us a map and said that our best bet would be in the first section, campsites 1-65. The ones marked with white circles were all of the non-specific sites from which we could choose.
After riding through the campground a couple of times, we selected site #60. It seemed to have a good amount of shade, and it was also close to the bathhouse. While the driveway sloped upwards, by backing the trailer in as far as we could, we were able to get everything level.
Why was our main priority shade? Because it was hot! Crazy hot….
We were a sweaty mess by the time we had everything set up!
We sat out under the awning while we waited for the A/C in the trailer to start cooling it down.
And it just kept getting hotter….
We bought some firewood, and then started driving around the large, beautiful park, just to explore a bit. When we went through the campground loop with sites 66-129, we realized we were probably in the best section, given the temperature. The sites in the other loop may be better for large trailers and RVs (as most of them are level and paved), but there's a bit less shade. These open sites would be fine in the spring or fall, though, and even with so many campsites (all with water and electric), neither loop seemed overly crowded or the sites too closely spaced.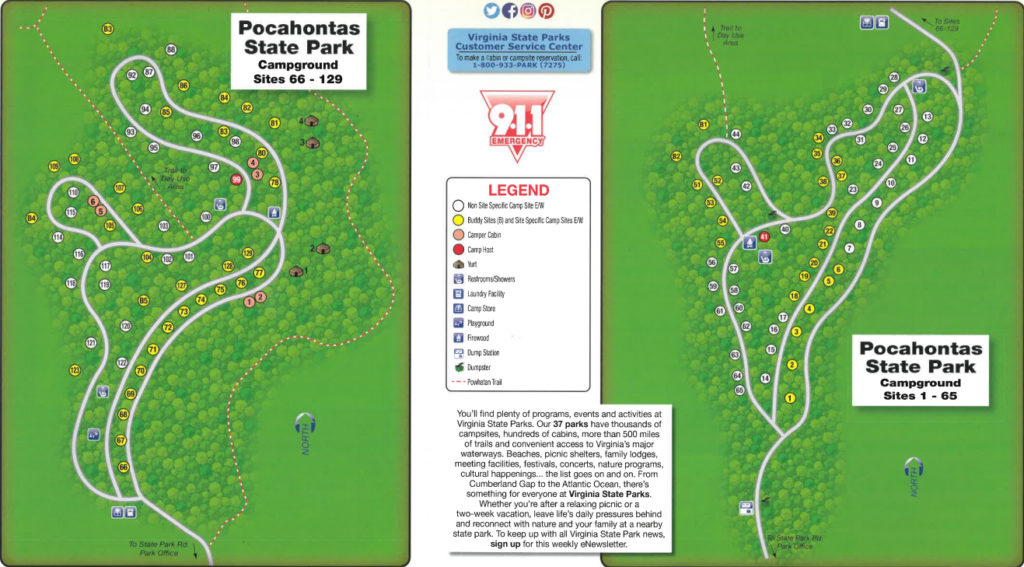 We got out of the car for a few minutes at Swift Creek. Someday it would be fun to rent a pedal boat or kayaks, but we weren't too surprised by the lack of people out on the water!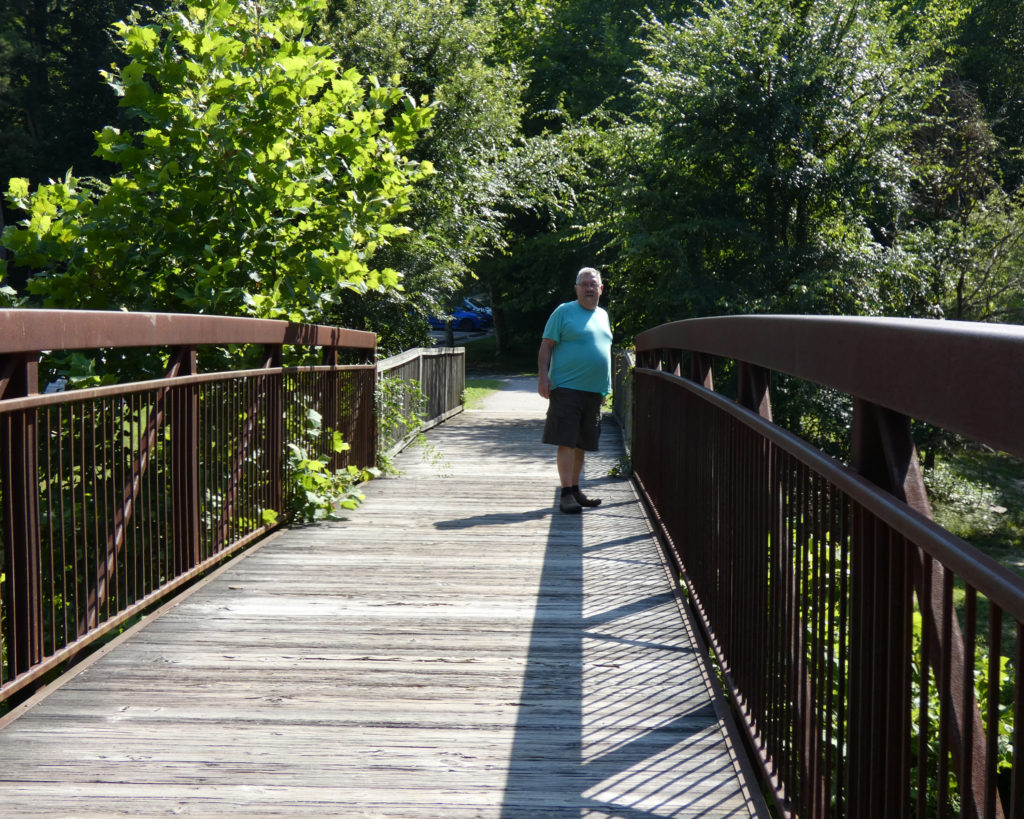 As usual, we'd brought food to cook for dinner, but the thought of getting out our propane stove wasn't too appealing, and we didn't want to cook in the trailer, either. Decision made, we went to a Food Lion about 3-4 miles from the campground, bought some food at the deli, and ate dinner in the camper.
One of the many things we enjoy about camping is sitting outside by a campfire until late in the evening, talking and listening to the katydids and other summer bugs. By 9:00 PM, however, the temperature had only dropped to 89 degrees, and the "real feel" temp was still 99!! We'd put up some blue LED rope lights on our awning, but instead of sitting in front of a campfire as we usually do, we opted to sit outside for a little while in front of a fan! Sadly, not quite the same experience….
Of course a little fan was better than NO fan, but soon we went inside where it was cool. By being so close to Richmond, we were pleased to find we could pick up a variety of TV stations with our digital antenna. (We also had pretty decent cell service at the park.)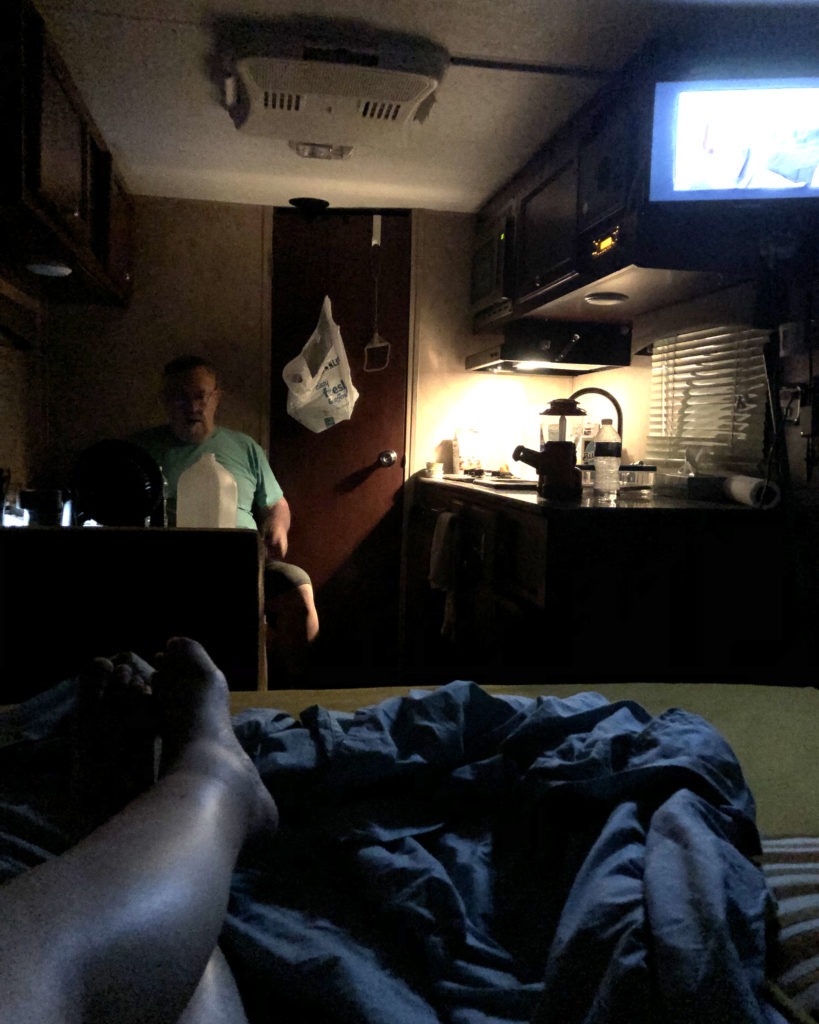 Saturday it was miserably hot again (another day with "excessive heat" warnings), so we went to the air-conditioned nature center to check out some of the exhibits.
The park has a really nice "discovery room" for kids, which we enjoyed, too!
The exhibit that fascinated me the most was a large, glass-sided honeybee hive. For the life of me, I couldn't figure out how it could be a sustainable colony since it was indoors!
When I asked a ranger about it, she explained that while the hive was inside, the bees could actually come and go via a tunnel through the wall to the outside. Well, perfect!
If you look closely at the picture below, you can see two bees returning to the hive through the tunnel.
When we told the ranger about our unusual encounter with the butterfly at James River State Park the previous week, she was able to identify it as a "Red Admiral." In one of her reference books, it specifically mentioned how this type of butterfly will often visit and land on people, so I guess the Red Admiral is the quintessential "social butterfly"! 😉
Our next stop was the CCC Museum, right across the parking lot from the nature center.
It was really interesting to see that six of Virginia's state parks were built with the help of the CCC, and that all opened on the same day in 1936! We've been to three of these six, and what a treasure they are!
It was tough walking out of the museum into the heat again, but we'd planned ahead and had our bathing suits. With a toddler pool, fountain wet deck, three-foot and five-foot deep pools, two tubular water slides, and an activity pool, there was something for everyone at the Aquatic Recreation Center!
By this time, the temperature was 98 degrees with a "real feel" of 111 (!!!!) so it felt incredibly good to be in the water. Still mindful of the sun, however, we only stayed at the pool for an hour before going back to our campsite.
After changing clothes and hanging up our suits to dry, Wayne went to visit some friends who live near the campground and I took a nap in the air-conditioned trailer. We made another trip to the pool later that evening.
Despite trying to stay hydrated and limiting our time outside, the heat was starting to wear on us. Dinner was sort of a non-event (I microwaved some deli leftovers), and basically we just stayed inside. (This trip wouldn't have been do-able–at all–for us without the A/C in the trailer!)
With more of the same forecast for Sunday–coupled with the possibility of severe storms that afternoon–we packed up well before the 1:00 PM checkout time.
As we were getting ready to leave, a couple stopped by our site and asked if it would soon be available. They were in the other loop of the campground but hoped to find a shady spot for the rest of their stay. Wayne told them that, yes, we were leaving, and also pointed out our stack of unused firewood that they could have.
In retrospect, perhaps camping during such a heatwave wasn't the best idea we've ever had, but overall, staying at Pocahontas State Park was a positive experience. With hiking trails, fishing lakes, kayaking, and more at this 7900-acre park, we'd love to visit again when we could better enjoy all it has to offer!
Until next time,
Sharon & Wayne