First back road adventure in a long time!
After a late start on Sunday afternoon, we drove to Lexington, Virginia via I-64/81, passing many pretty farms, like this one, in the Shenandoah Valley.
We drove just west of Lexington in I-64, eventually found our way to Rt. 631 and followed it along the Maury River.
Next stop was Jordan's Point in Lexington.
We continued to follow Rt. 631 out of Lexington to the east and then made our way to the Blue Ridge Parkway.  The late afternoon sun made every view exquisite!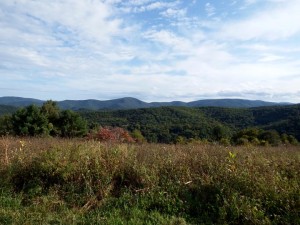 We love our rivers and mountains!
And we love our valleys, too!
Shenandoah Valley (west) & Rockfish Valley (east) from the northern part of the Blue Ridge Parkway.