Beach-bound, we left home the morning of Friday, April 5th and decided to try another alternate route to Virginia Beach by traveling east on Rt. 60. Slower than the interstate–but more scenic–we got to the motel in Town Center around 2:30 pm.
Early forecasts had called for rain starting that evening, but it was already raining. Oh well, that didn't stop us! We drove to the oceanfront, found a parking spot, and got our first look at the ocean behind the 34-foot tall statue of Neptune.
We took a quick selfie under a gazebo (where it was relatively dry) before walking over to the statue.
I was surprised when Wayne went down the stairs off the boardwalk and started heading for the water across the wet sand. I was even more surprised when I followed along behind him. (I did mention that it was raining, right?) 😉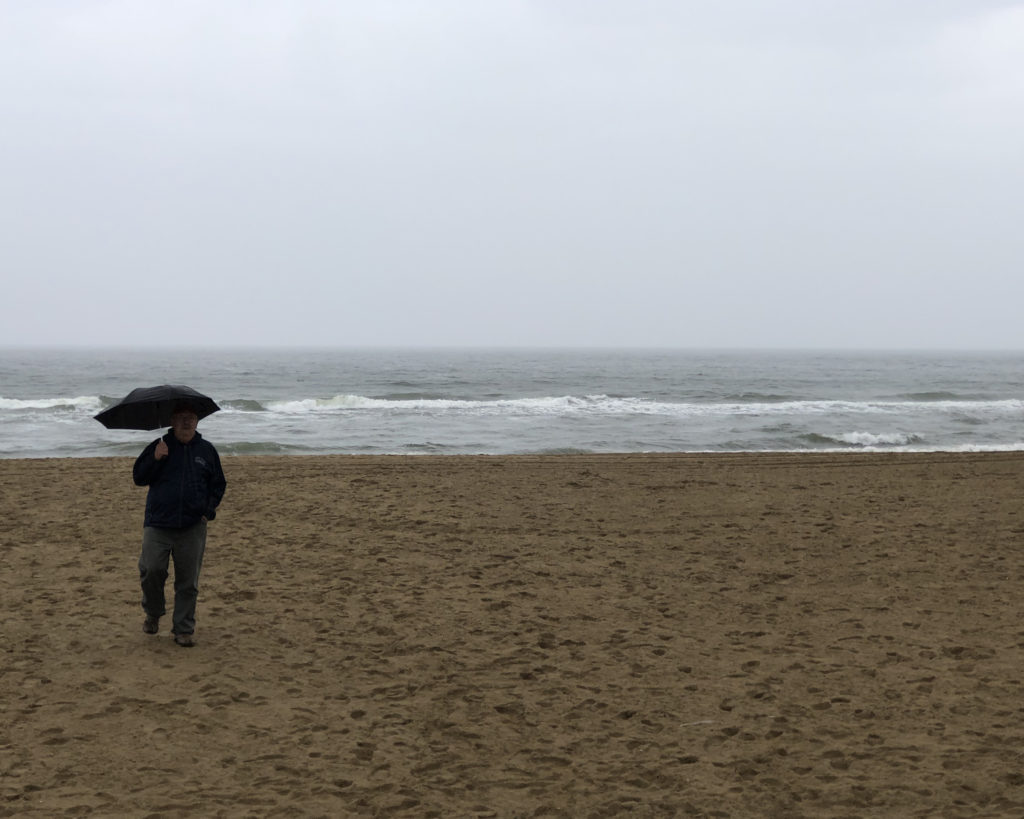 Despite the rain–or maybe because of it!–it was so beautiful! The sound of the rain and the surf, combined with the smell of the salty air coming in off the ocean, created a very primal (and wonderful) sensory experience. I sincerely think we need to visit the ocean from time to time….
We tried to take another selfie with the ocean behind us, but if we angled the umbrella one way, rain came in on my phone. If we angled it the other way, rain poured down our backs. 😉
We walked back to the car and put our (soaked) jackets and umbrellas in the back. We drove north on Atlantic Avenue, then went to Captain George's Restaurant for a delicious seafood dinner. No pics were taken this time, but if you look back at the post from December, it was basically a repeat!
We got a late start on Saturday. While flipping through channels on the T.V. at the motel that morning, we saw that the movie "Field of Dreams" was coming on, and we watched–and enjoyed–all of it! After that, we got it together and went to Nick's Restaurant at 508 Laskin Road. When the waitress said they had Soft-Shell Crab Benedict for breakfast, Wayne was one happy guy. 🙂
My simple breakfast of scrambled eggs, toast, and grits was quite good, too, and each time we go to Nick's, I enjoy looking at all of the painted tiles on the ceiling!
Wayne asked the waitress if they had any muffins or sweet rolls, thinking we'd share one as "dessert." Nope, no muffins or sweet rolls, but they did have this!
So after this huge and rather decadent breakfast, we drove up to 64th Street to First Landing State Park. We usually see ospreys and other large birds there, and this time was no exception! Driving into the park, we spotted the first osprey on a tree having an early lunch of fresh fish.
There were nests and ospreys (and the occasional egret) everywhere!
After exploring First Landing for a couple of hours, it started to rain a little harder. Perfect time, we thought, to drive to Back Bay National Wildlife Refuge. This is another one of our favorite places in the Virginia Beach area.
It is so rare and so fascinating to be the only people on an Atlantic coast beach. Bay Back National Wildlife Refuge is natural, wild, desolate, and simply amazing….
We left Back Bay and made our way to Laskin Road again where we met our friends, Lisa and Steve, at No Frill Bar and Grill for dinner. These were the folks that we met last summer when they bought our Scamp travel trailer, and we've kept in touch since then!
We enjoyed an evening of non-stop talking, delicious food, and even MORE talking! So nice when "chance" encounters lead to genuine friendships. 🙂
As the day started at Nick's restaurant, so it ended at No Frill Bar and Grill:
LOL, no, Wayne and I didn't EACH have a piece of incredibly rich and delicious chocolate turtle cake, but Lisa thought it would be funny to get a picture of their cake beside the piece that we were sharing. 😉
Yes, it was as good as it looks! Such a nice evening!
The next morning we were up early and on the west side of the Hampton Roads Bridge Tunnel on I-64 by 9:00 am. After stopping for a quick breakfast in Lightfoot, VA–and due to an accident with traffic backups on the interstate–we decided to take scenic Rt. 5 the rest of the way home.
We stopped at the Chickahominy Riverfront Park (at the confluence of the Chickahominy and James Rivers) and spotted ospreys (imagine that!) in the marshy area near the campground.
We'd never seen an osprey nest so close to the ground!
We stopped again 17 miles later at the Lawrence Lewis, Jr. Park hoping to see Bald eagles there. Over the years we've seen them at the park several times, and we weren't disappointed on this visit!
I know that I lose quality when I go from optical to digital zoom on my camera, but it's always tempting to get as "close" as possible to these magnificent birds !
I am SO glad we were able to do a quick beach trip! While we didn't have "perfect" weather, the sights, sounds, wonderful meals, and spontaneous get-together with friends made it all quite perfect! 🙂
Until next time,
Sharon & Wayne