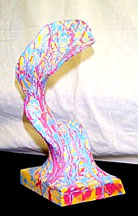 These free-form sculptures were made from wire, pantyhose, and acrylic or latex paint. I got this lesson plan from someone on ArtsEdNetTalk for art teachers, and I was amazed at how easy and yet how dramatic these sculptures can be!

The best part is that my students in grades 8-12 had a BLAST with these, and we had enough time and materials for them to become increasingly experimental and create more than one if they wanted to.

Click here for the lesson plan!


BACK
Home | Lesson Plans | My Artwork | More About Me | Genealogy | Contact |