It was a pretty typical day here at the kitten daycare center and Simon was (typically) busy terrorizing the resident cats.
Something special was in the works, however, because earlier in the day a package had arrived in the mail — and it was addressed to HIM! With a return address of Rocky Mountain Siamese Rescue, I was sure it contained some goodies from the Rocky Mountain Siamese Rescue eBay Store, but I had no idea who it was from!
That evening I told Simon he could LOOK at the package, but he couldn't open it until his "Daddy" got home. Waiting was sheer torture, especially since his behavior let me know that he was smelling — and reacting to — catnip!
"Oh, GrandMeowmy, purrrr-lease??!"

Daddy finally got home and Simon turned those sad little eyes on him. But wait — would we be contributing to the delinquency of a minor by giving catnip to a kitten?! Yeah, probably!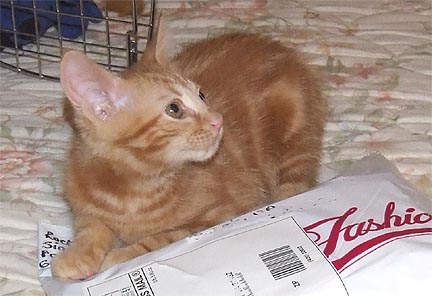 But with no further ado, we opened the package, and oh my, what a bountiful bag of kitty toys! Simon didn't know what to play with first!

And within the bag we found a note from the sender:

Thank you, Auntie Kaye! What a wonderful surprise and wonderful toys! Simon just lubs them!!
---
You can help support Siamese Rescue efforts by purchasing Simon-endorsed and reasonably-priced cat-related merchandise through the eBay store listed above. You can also get some goodies for the special kitties in YOUR life by clicking on the link below: